Best Sewing Machines for Beginners
Hello and welcome to the best sewing machines for beginners
So you are beginning a new venture in sewing and need to get a starter sewing machine.  I am so glad that you came here first because unfortunately a lot of sewing machines on the market and nothing more than a waste of money.
Sometimes buying a cheap sewing machine means that you will have to purchase another shortly after because the cheap one does not come up to scratch.  Unfortunately this is not always true.
---
Best Sewing Machines for Beginners
To begin your sewing projects you are going to need a sewing machine that is easy to operate, durable and that will give you top quality stitching.
Easy to operate
Durable sewing machine
Top quality stitching
During my sewing days, I have used a lot of sewing machines that just don't come up to scratch and finding a sewing machine with the three combinations that I have mentioned is not that easy to find.
This is why I have written this buying guide for beginners, so that you will find a sewing machine that will fit your needs as a beginner.
I have kept this list of beginner sewing machines in the reasonable price range because I feel that this is the maximum that you should be spending as a beginner sewer.
You can buy more expensive machines if you have the money to do so and take a look at my other buying guide on the best sewing machines, but personally I think that it would be better to grow your sills with a beginner sewing machine and then switch over to an advanced sewing machine at a later stage.
So if you are a beginner and or an occasional sewer then this buying guide is for you.
---
Best Sewing Machines for Beginners and Occasional Sewers buying Guide
---
Model 1507 Singer Sewing Machine – the Easy Way to Start Learning to Sew
I like the fact that this little sewing machine comes with a carrying handle so that it can be easily taken to sewing classes and or be moved around.  Also it comes with soft cover that makes storing it away at home more convenient.
This is a real beginner's sewing machine and this is good news for beginners because it comes with eight stitches to get you started on beginner sewing projects and projects that only require simple stitching. A big dial button to make it easy to select the stitch you require.
To be honest this sewing machine maybe basic but you can still do a lot of sewing projects with it. For example you can start making your own garments and simple household furnishings.  Now that is a whole lot of sewing.
Product Description
Singer entry level model sewing machine
8 built-in stiches including 4 step buttonhole
Adjustable stitch length and width
Heavy duty metal frame with built-in accessory storage
Carrying handle and soft dust cover
8 Built-In Stitches
The eight built-in stitches offers a variety of options for fashion sewing, home decorating and decorative sewing and for your craft sewing projects.
Simple Stitch Selection
You can choose you're stitches with the easy to use dial.
Adjustable Stitch Length and Zigzag Width
Zigzag stitch can go to a maximum of 5mm.  The adjustable stitching options will help to keep your seams stronger and prevent the bunching up of any type of fabric.
Automatic Four-Step Buttonhole
This leaves the guesswork out and will give you professional looking results.
What's in The Box?
General purpose foot
Button sewing foot
Zipper foot
Buttonhole foot
Seam ripper / brush
Bobbins x 3
Darning plate
Large and small spool caps
Screwdriver
Pack of needles
Seam guide
Soft dust cover
Instruction manual
Foot control and lead
More information about price and buying
---
Uten electric sewing machine for small household sewing projects comes with 2 speeds and 12 stitches.
Right this little sewing machine is perfect for kids and beginners and I would also say that even advanced sewers may love this little machine.
WHY?
Because it has an overlock function, which is an added bonus. Double thread to help you create firmer and straighter stitching.
With the overlock function you will be able to do many sewing projects without limitation, so all you budding fashion designers, interior designers and those that love sewing craft projects this will be ideal.
This machine is lightweight, portable and durable, making it easy to carry around and easy to use.
Mini Hidden Drawer
On the side of this sewing machine you will find a hidden drawer that is handy for storing sewing accessories, such as, bobbins, needles and threads.
Two Power Supply Modes
Dual power supply.  You can use an adapter or 4 x 1.5V battery (NOT INCLUDED) making it possible to be used in locations where plugs are not available.
Cons
The only thing that you can only do a reverse stitch on the straight stitch setting.
Product Description
Multifunction sewing tool
This lightweight portable sewing machine comes with 2 speed and built-in 12 stitches.  You will be able to double stitch with the double thread and double speed.
You will be able to seam, hem and create buttonholes and create cuffs or trouser bottoms on the free arm
Portable and Convenient
This little sewing machine is portable, sturdy and lightweight, making it great for storing away when not in use and or if you are living in a small space.
It also comes with a non-slip pads at the bottom to ensure that it will stay firmly in place whilst you are working.
Easy to Use
This small lightweight sewing machine is perfect for beginners and children and is easy to use and with the non-sip pads at the bottom for increased safety whilst the sewing machine is in use.
Overlock and Reversing
You get the overlock function so that you can sew and cut and have a professional looking sewing project.
Reverse sewing (only on straight stitch) to reinforce your stitches and making sure that you will not have any loose ends.
I love the fact that it comes with an overlocking function and is study and lightweight
More information about price and buying
---
Brother AE1700 Sewing Machines with Instructional DVD
Product Description
17 stitch sewing machine
Drop in bobbin
LED lighting – never have to replace the bulb
Quick and easy stitch selection
4 step button hole
This model of the Brother range of sewing machines comes with 17 stitches making it perfect for home furnishings and dressmaking.
This is suitable for all who love to sew from beginner right up to advanced sewers.
Comes with a drop in bobbin and an automatic bobbin winder so that you do not have to wind your bobbin manually.
4 step buttonhole so that you can sew your perfect button holes to the size that you want.
Led Light so that you will not have to replace it and you can now work in close to natural light with a yellow sheen that you get with a tradition lightbulb.
You can easily lock your stitches with the reverse stitch lever.
The Brother AE1700 comes with an instructional DVD that will show you all the aspects of the sewing machine.  Making it easier to get to know your machine, which I feel is great for beginners to get going quicker with their first sewing projects.
Comes with twin needle and zipper foot so that you can start getting more creative with your projects.
What's in the Box?
Zigzag foot
Buttonhole foot
Zipper foot
Button sewing foot
Darning plate
Set of needles
Spare bobbins
Screw driver disc
Foot control
Instruction guide and instructional DVD
What I like about this machine is that it comes with an instructional DVD and this is useful if you are anything like me.  I learn faster with pictures and visual images.
You will also have the added bonus of the Brother Customer helpline should you need it.
More information about price and buying
---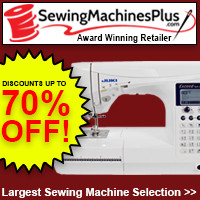 ---
Brother LS14 Metal Chassis Sewing Machine
Product Description
14 stitch metal chassis sewing machine
Drop in bobbin
LED lighting
4 step button hole
3 year warranty
This traditional metal chassis Brother sewing machine comes with 14 stitches, making it ideal for dressmaking and soft furnishings.
Although you can only use plastic bobbins and NOT metal bobbins (see notes on this further down), the bobbin is designed to be drop in and jam proof.
LED lighting which means that you will never have to replace the bulb.  It is also great for seeing the true colour of your thread, because the colour will not be distorted.  This can sometimes happen with the replaceable bulbs.
Con
You can only use plastic bobbin in this machine and they state that if you use a metal bobbin it will invalidate the guarantee / warranty.  So please take note because using a metal bobbin will also affect your sewing quality.
What's In The Box?
Zigzag foot
Buttonhole foot
Zipper foot
Set of needles
Bobbins
Disc screwdriver
Foot controller
More information about price and buying
---
Singer 4411 Heavy Duty Sewing Machine
Now this traditional looking Singer sewing machine is described as a workhorse because of its heavy duty metal interior frame and stainless steel bedplate.  It comes with extra high sewing speed and powerful motor.
If you want a basic sewing machine with the speed and power of some of the more advanced sewing machines then this is the one.
This Singer sewing machine will get the job done, and because it has a basic design will make it easy to use and get used to. Making it suitable to both beginners and the more advanced sewer.
You will be able to get many projects done with this little powerhouse sewing machine.
What I like about this machine is that it is basic and at a glance you can see what is going on, with the big dial buttons.
Perfect for dressmaking, home décor and much more.
Product Description
11 Built-in Stitches
6 basic stitches
4 decorative stitches
1 auto buttonhole
Convenience Features
Easy to use heavy duty sewing with top drop in bobbin, fully automatic 4 step buttonhole, free motion sewing.
A high speed sewing machine which is built and designed with extra robustness for heavy duty sewing.
Includes high powered motor and stainless steel bed plate that will sew up to 1100 stitches per minute. Making it 50% faster than a standard domestic sewing machine and ideal for heavy weight fabrics and larger scale jobs.
Adjustable stitch length and width
What's in the Box?
Singer 4411 sewing machine
All-purpose foot
Zipper foot
Buttonhole foot
Button sewing foot
Edge/quilting guide
Pack of needles
Bobbins
Small and large thread spool cap
Auxiliary spool pin
L shape screwdriver
Seam ripper / lint brush
Soft sided dust cover
Instruction manual
More information about price and buying
---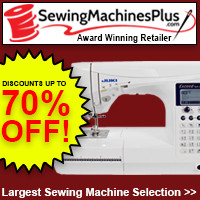 ---
Janome 2200XT Sewing Machine
This is a great sewing machine for beginners and for the price.  And more that capable of doing basic craft projects and dressmaking.
The instruction manual is easy to understand making it ideal for beginners to get going with minimal fuss and also for those of you that have not used a sewing machine in a while.
A great thing that I really like about this sewing machine is that in the instructions there is a troubleshooting section and tips and will help you to get the thread tension just right and how to use the different stitches, install and wind the bobbin.
Also this little sewing machine is heavy enough to feel secure when doing your sewing projects but light enough to be carried and put away when finished using and take out when you need it.
There is a hidden draw to keep the accessories.
Cons
The foot controller pedal could have been made sturdier.
The cable between the foot controller pedal and the sewing machine should be longer.
Product Description
22 stitches plus a 4 step button hole
Maximum stitch width 4mm
Maximum stitch length 5mm
Snap on presser feet
Soft cover
Foot controller
What's in the Box?
Foot control
4 x bobbins
Pack of needles
Seam ripper
Hem guide
6 x Snap-on Feet (standard foot, hemming foot, overcasting foot, satin stitch foot, sliding buttonhole foot, zipper foot)
Sew machine oil
2 x screwdrivers
Soft Cover
Instruction manual
More information about price and buying
---
Thank you for visiting JADa's Buying Guide and the best sewing machines for beginners
I hope that you have found this helpful.
I would really appreciate it if you would like and share this buying guide.
Also if you have any questions or just want to leave me a comment you can do so in the comments section below. I would really like to hear from you.
Thank you
Jennifer
---
You may also be interested in:
Best Plus Size Lingerie & Underwear
Best Women's Plus Size Swimwear
Best Plus Size Wedding Dresses
Ninja Foodi Pressure and Multi-Cooker Review
Mini Fridge Review: Buying Guide 2019​
Baby Feeding Products: Buying Guide 2019
Baby Strollers and Baby Buggies Best Buy
Baby High Chairs and Booster Seats: Buying Guide 2019
What is Chicco Baby: Buying Guide 2019
Baby Car Seats: Buying Guide 2019
Handheld Vacuum Cleaner Buying Guide 2019
Can You Really Lose Weight Wearing A Sauna Suit?
Best of African Black Soap: Buying Guide 2019
5 Amazing Benefits of Training with a Weighted Vest
Nutri Ninja Range: Buying Guide 2019
Beats by Dr Dre Beats Studio 3 Wireless Headphones
Please follow and like us: